Today We Came up with Asus Rog Strix Scar 15 3080 Review that Features 15.6" 165Hz IPS QHD Display with Ryzen 9 5900HX + GeForce RTX 3080 Combo. Let's Have a look at their Specifications and Features.
You May Check: Dell Inspiron 15 Review
Asus Rog Strix Scar 15 2021
[amazon table="19002″]
Asus Rog Strix Scar 15 Review
The ROG Strix Scar 15 embodies a streamlined design, offering a formidable core experience for serious gaming and multitasking on Windows 10 Pro. Featuring up to the latest 5th Gen AMD Ryzen CPU and an NVIDIA GeForce GPU, it offers high-FPS power that takes full advantage of up to a blazing fast display.
Design and Build
The overall design of the Asus Rog Strix Scar 15 2021 Looks quite Similar to previous Models with plenty of RGB Lightings, Though there are some interesting Changes.
The Metal Lid has a Black Finish, while the Plastic Interior is mostly in black. The Right half of the keyboard Deck is Translucent, You can kind of see the insides.
The Back Plastic Corner Piece Clips in and can be removed and swapped between 3 different Finishes, All of three which included in the box.
Overall, The Build Quality Feels quite Decent and there is minor flex to the Keyboard Deck, Though the screen has a bit more wobble to it. But it doesn't shake around or anything when actually using it.
The Laptop weighs around 5.51 pounds with 13.94 x 1.07 x 10.2 inches Dimensions and comes with a 240-watt power brick and cable for charging.
Processor
It has the Latest 5th Gen AMD Ryzen 9 5900HX Processor which base clock speed is 3.3 GHz and can be boosted up to 4.5 GHz with 16M Cache. With the increased clock speed and IPC improvements thanks to Zen 3, the Ryzen 9 5900HX should be clearly faster than the lower clocked Ryzen 9 4900H.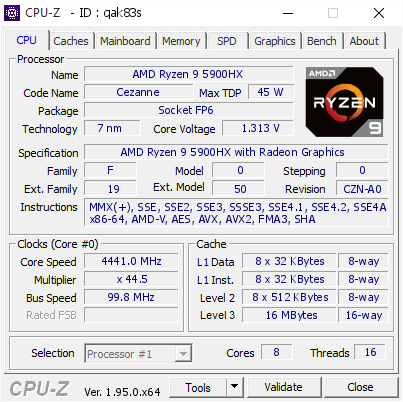 RTX 3080 16GB GDDR6
The Asus Rog Strix Scar 15 3080 16GB GDDR6 Provides ultrafast performance in Gaming and easily loads heavy workloads and multitasking.
| Name | MSRP Price | 3DMark Time Spy Graphics Score |
| --- | --- | --- |
| NVIDIA GeForce RTX 3090 | $1499 | 19970 |
| AMD Radeon 6900 XT | $999 | 19167 |
| AMD Radeon RX 6800 XT | $649 | 18217 |
| NVIDIA GeForce RTX 3080 | $699 | 17699 |
| NVIDIA GeForce RTX 2080 Ti | $999 | 14829 |
| NVIDIA GeForce RTX 3070 | $499 | 13722 |
| NVIDIA GeForce RTX 2070 SUPER | $499 | 10199 |
GeForce
RTX 3080 3d mark benchmark
Performance
With Ryzen 9 5900HX + GeForce RTX 3080 Combo you can enjoy pretty All Modern Games with more than 100+ FPS, You can even get more fps by lowering your Resolution as well.
This Laptop has really fast Response Rate ( 165Hz 3ms ) which is perfect for Casual Gaming because of its high Color Gamut and it best for Content Creators as well because of High resolution and high color Combination.
RAM and Storage
The Asus Rog Strix Scar 15 Comes with 32GB DDR4 3200MHz RAM with Dual-Channel and that does perform well in title games like Shadow of Tomb Raider.
You are getting 1TB PCIe NVMe M.2 SSD and Wifi-6 with Bluetooth 5.1, All of which Worked Exceptionally well out of the box.
Display
The Asus G533QS-XS98Q Has Quad HD 2560 x 1440 IPS-Type Display which is the best in the market so far.
This Laptop has 327 NITS Peak Brightness and over 100% SRGB, 90% ADOBE RGB and 90% P3 Color Gamet and the last one got a 740:1 Contrast Ratio which is not good for outdoor but for indoor, it is well enough to enjoy.
The Display is noticeably Brighter and more vibrant than your average Gaming Laptop Display but at that 740:1 Contrast Ratio, it is not that punchy as some.
Overall, it is a fantastic display with probably the best overall Package provided in a 15-inch Chassis that you can buy on Amazon today.
Keyboard
The Mechanical Keyboard has Per-Key RGB Backlighting which Illuminates All-Keys and Secondary Keys Functions. It's got 3 levels of key brightness 1.9mm of key travel, I really liked typing with it.
The Keys are click feelings and were great to use, A bit louder than Non-Mechanical Alternatives as you'd expect. But I think the trade-off is worth it, Though I could see it being a little annoying for others if you are in a super quiet environment like a library or something.
You got far less chance of Accidentally pressing the power button as it is located above the keyboard at the right and there are also extra Function buttons above on the left Including:
Volume Adust Button.
The Fan Icon that lets you cycle between Performance Modes.
The RGB Logo is a Shortcut to the Armoury crate software.
The Precision Touchpad is large and works great and feels accurate and I enjoyed it a lot. You can hold it down on the top right to enable Numpad, But when is in this mode the regular touchpad cannot be used.
I/O Ports
On the Left side there is an Air Exhaust vent, 2X USB 3.2 GEN 1 Type-A Ports and 1X 3.5mm Audio jack Port.
On the Right Side there is only Key Stone and Air Exhaust vent too.
On the Back Side between the two Air Exhaust vent, You got 1x USB 3.2 GEN 1 Type-A Port, 1x USB 3.2 GEN 2 Type-C Port, HDMI 2.0b Output port and Gigabit Ethernet Port .
Speakers
The Speakers are underneath down the front on the left and right sides and they are sound amazing for gaming laptops, Plenty of basses though not as clear at max Volume despite not getting super loud but it is still above average.
BIOS
The BIOS has the same layout as the other Modern Asus Laptops, So most of the basic options without too much customization available.
Battery
The Scar 15 has a 4-cell 90Wh Battery, It can last for more than 9 hours depending upon the workload you are using on it.
Customer Ratings
18 People Bought this Asus Rog Strix Scar 15 3080 Laptop so far on Amazon and gave an average rating of 4.7 out of 5.
Asus Rog Strix Scar 15 VS Razer Blade 15
| Features | Asus Rog Strix Scar 15 2021 | Razer Blade 15 2021 |
| --- | --- | --- |
| Customer Rating | 4.7 out of 5 stars (18) | 4.4 out of 5 stars (252) |
| Price | $3,799.00 | $2,999.99 |
| Computer Memory Size | 32 GB | 32 GB |
| CPU Model Manufacturer | AMD | Intel |
| CPU Speed | 4.6 GHz | 2.3 GHz |
| Display Resolution Maximum | 2560 x 1440 pixels | 1920 x 1080 pixels |
| Screen Size | 15.6 inches | 15.6 inches |
| Display Technology | LED | — |
| Item Dimensions | 13.94 x 1.07 x 10.2 inches | 9.25 x 13.98 x 0.67 inches |
| Item Weight | 5.51 lbs | 4.40 lbs |
| Operating System | Windows 10 Pro | Windows 10 Home |
| Processor Count | 8 | 1 |
| RAM Type | DDR4 SDRAM | DDR4 SDRAM |
| Wireless Communication Standard | Bluetooth, 802.11ax | 802.11a/b/g/n/ac, Bluetooth |
Conclusion – Asus Rog Strix Scar 15 Worth Buying?
Overall, If you are Looking for a Premium 15 Inches Laptop, This is the one to buy at least the very best. You got all of Premium Features right there what you want from any Gaming Laptop except maybe "Windows Hello" and you get a really well-rounded balanced Performance on the CPU and GPU at the same time.
Gaming Laptops: http://techthebite.com/category/laptops/
That's it from this Asus Rog Strix Scar 15 3080 Blog, Keep visiting for tech, gaming, and tutorial updates.
About Author